RockWell™ Egress Window Wells
Quality Egress Window Wells For A Safer, More Beautiful Finished Basement
What It Does:
As the popularity of basement finishing has increased in recent decades, building codes are growing and evolving to keep pace. Recent updates in building code require "egress windows" (windows large enough to climb out of in case of emergency) be installed in finished basements used as living space.
Along with the egress window, a large window well must be installed outside, with a step to allow for easy evacuation in an emergency.
The RockWell™ Egress Window Well is an ideal option for egress access. With its all-natural look and a durable, covered design, it maximizes natural light in your basement, while creating a beautiful addition to your finished space.
Advantages To Our System:
One-Piece, Durable Construction
Attractive Stone-like Design
Stair-Step Design Allows For Easy Exit
A Durable Clear Cover Keeps Out Water, Debris, & Cold Winter Winds
UV-Stable, Rustproof Design
Stands Up To Extreme Temperatures
Get a FREE Estimate!
Our egress window wells are just what you need for a safer, more beautiful finished basement! For a free egress window installation quote, call or e-mail us today!
We proudly serve Janesville, Rockford, Madison, Milwaukee, and many nearby areas in Wisconsin & Illinois.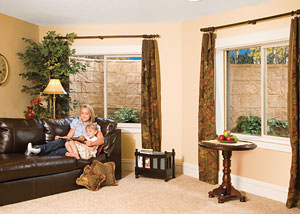 Product Dimensions

Premier Series Sizes
Item #
Width
Projection
Height
Weight
08732
66"
39"
48"
69"
08733
66"
39"
60"
80"
08734
66"
44"
72"
102"
Well Cover
Item #
Width
Projection
Height
Weight
08730
66"
39"
N/A
21"
08731
66"
44"
N/A
33"
Reliable Egress Window Wells
The RockWell™ Egress Window Well System is created with beauty and aesthetics in mind. Its outer surface duplicates the look and feel of natural stone, with a muted texture that's UV-stable to resist fading of materials over time.
These egress window wells are created with a one-piece rigid design that's designed to stay looking great for many decades to come. Our window wells are designed with a long-lasting construction that will never rust, rot, or need paint.
Add Beauty To Your Finished Basement
The spacious, open shape, light color, and clear, domed, plastic lid of the RockWell™ system is a great way to brighten a finished basement and maximize available sunlight.
The natural color of the exterior fits in well with landscaping such as gardens and foliage, adding to the overall curb appeal of your home.
A Clean, Covered Design
A polycarbonate well cover adorns the top of each RockWell™ Egress Window Well, keeping out rain and debris.
While they are not intended for continual foot traffic, the 10mm fluted polycarbonate cover has been created with durability in mind, and is rated to hold up to 500 lbs of weight to prevent family members from accidentally falling into the window well.
Quality Egress Window Well Installation In Wisconsin & Illinois
At Badger Basement Systems our team of basement contractors has the experience, training, and high-quality products you need to create a dry, beautiful, usable space in your basement. Our RockWell™ Egress Window Wells are backed by a 10-year limited written warranty, as well as our own in-house service warranty.
If you would like a free egress window well installation quote, we're standing by to help you! To schedule an on-site installation and written cost quote, contact us by phone or e-mail today!
We serve the Madison, Milwaukee, Janesville, Rockford areas, as well as many other parts of Wisconsin & Illinois.
Looking for a price? Get a no cost, no obligation free estimate.