Reasons to Remodel Your Basement With Total Basement Finishing in Southern WI & Northern IL
Transform your basement into a beautiful, comfortable living area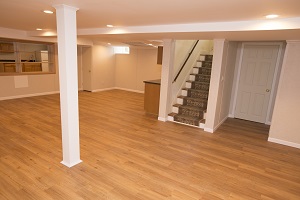 Beauty, versatility & long-term performance. Our flooring, ceiling tiles, wall panels and other finishing products are designed to look great in a wide variety of room configurations.
Many homeowners are used to the traditional products used for basement finishing and basement remodeling projects. Materials like wood studs, fiberglass insulation, plywood and gypsum board easily succumb to moisture damage, making them unsuitable for basements that already have a damp, dark environment. They provide an ideal habitat for mold that can cause allergic reactions and respiratory ailments and damage to the finished look of your basement.
To make sure your basement remodeling project is done right the first time, be sure to choose a basement finishing expert that utilizes products that won't attract mold or moisture and won't damage easily over time. For a free estimate in La Crosse, Beloit, Menomonee Falls, Oak Creek, Sun Prairie, call us today. All of our high-quality products can ensure a basement environment that is safe, healthy and beautiful.
We service the areas of Madison, Milwaukee, Janesville, Rockford as well as all surrounding areas throughout Southern WI & Northern IL in Wisconsin & Illinois. Take a look at the reasons why basement remodeling may be a great option for you!
Four Great Reasons to Remodel Your Basement
No moisture, no mold, no problems. With over 20 years of basement waterproofing and dehumidification experience, Basement Systems has the best products and techniques available for keeping your basement dry. What's more, our basement finishing products (wall panels, flooring, molding, ceiling tiles and more) are waterproof and won't support mold growth. When you combine the best moisture control techniques with moisture and mold-resistant materials designed specifically for basements, you've got the best formula for a beautiful, long-lasting basement transformation.
Inexpensive extra space. Remodeling your basement is an excellent way to exploit the space you already have. A basement remodel adds a floor of quiet, private space for a fraction of what you'd pay to build an addition. And unlike an addition, basement remodeling won't diminish the size of your yard.
Excellent return on investment. Finishing all or part of your basement is a surefire way to increase the value of your house. A basement remodel ranks right up there with kitchen and bath remodeling in terms of improving a home's resale value.
Energy savings. Many unfinished basements have too many air leaks and too little insulation. As a result, the basement can waste energy and compromise the comfort of upstairs living space. Adding insulation and super-efficient windows in the basement will improve your home's comfort while saving money on heating and cooling costs. There's a bonus for upgrading your basement's energy efficiency: You may qualify for rebates for certain energy upgrades.
Contact us to get started on your new basement
If you're thinking about finishing your basement, our basement finishing services and innovative basement remodeling system can ensure a dry, healthy basement the first time around. Our services are available in Racine, Waukesha, Eau Claire, La Crosse, West Allis and many surrounding areas. Call us today to schedule an on-site inspection and free estimate!
Looking for a price? Get a no cost, no obligation free estimate.