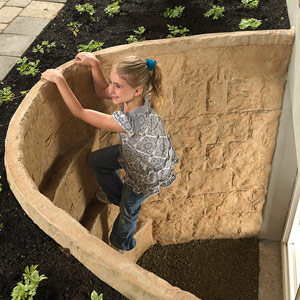 Our egress window wells meet the IRC Egress Code Requirements, providing you and your family with a direct escape from any of the inhabited rooms in your basement.
In window wells that are deeper than 44 inches below ground level, the IRC Egress Code requires there to be steps or permanently affixed ladders to accommodate exiting the basement.
RockWell's egress window wells feature durable, built-in steps that make it easy for your family to escape from your basement in the event of an emergency. We also offer safety ladders for our Premier series window wells.