The DOs and DON'Ts of Basement Finishing in Milwaukee, Rockford, IL & Nearby
Expert tips from your trusted basement finishing contractors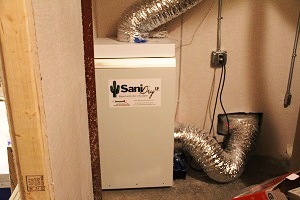 Eliminate Moisture Problems. By installing a SaniDry™ dehumidifier, you can eliminate moisture for a dry, healthy basement.
When finishing your basement there are a few things to keep in mind as to what you should and shouldn't do. Here at Badger Basement Systems, we can explain to you our many different design options and help you create the basement space you've always wanted.
There are several elements to consider when remodeling your basement that will help make the process easier. Listed below are all the things you should discuss with your basement finishing contractor to be sure that you are getting a quality, long-lasting space.
We specialize in basement finishing for homes throughout the Southern WI & Northern IL area including Madison, Milwaukee, Janesville, Rockford and nearby. Call us today to schedule a free consultation and on-site estimate!
What you SHOULD do:
Double-check local building codes - As you know, different areas have a multitude of different building codes. It is important that you and your contractor discuss the particulars before any installation has begun. Although our contractors know exactly what to do in the area that we serve, we want you to be aware of the stipulations as well.
Accentuate the positive areas of your basement - Your basement may not acquire natural light to let into the space, but the amount of floor space is something to utilize. Our experts know exactly what to do down to the little details so that you get the most out of your basement space.
Consider all design options - We have several basement finishing design ideas that can help your basement transform into a space you've always wanted. From home theaters to bars and extra living space, we can help create anything you have in mind.
What you SHOULDN'T do:
Overlook the smaller details - Specific aspects should also be discussed during your on-site consultation with one of our basement specialists. Things like lighting, ductwork, columns, joists and trim all require attention. Since your basement won't be receiving much natural light, lighting is extremely important. With our high-quality wall panels, different lighting options offer a different look to the walls. We also offer design options for specific light fixtures.
Stress to figure out every aspect - Here at Badger Basement Systems, we can give you an accurate depiction of what your basement will look like with our integrated software. However, after we finish the project, the little details are yours to decide. You can add custom furniture, pictures, posters, and other decorative elements without the fear that they will be ruined over time. All of our wall, ceiling and flooring options are resistant to moisture, mold and rot. They also have neutral appearances, allowing you to decorate how you please.
Question the investment - Your basement will significantly add to the value of your home. Whether you plan on selling your home or not, you now have a beautifully finished space that can be used for virtually anything. This added space can be extra living space or a room to store all your most valuable items. A finished basement by Badger Basement Systems will not only last long, but it will be an investment you wish you never questioned!
You can start your beautiful, waterproof basement today
Badger Basement Systems is your local basement finishing specialist in Racine, Waukesha, Eau Claire, La Crosse, West Allis and nearby. Call us today for a free estimate on your basement project today! We can get you started with a free estimate and explain to you our many different services available throughout Wisconsin & Illinois.
Looking for a price? Get a no cost, no obligation free estimate.