Winter Playground in the Basement Make it Safe
Thursday, November 13th, 2008 by Cynthia Freeney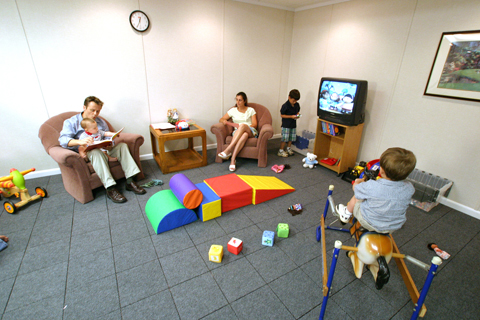 The Milwaukee Journal Sentinel published in Nov 7, 2008 a great article on how to use the basement as a winter playground for the children.
Basements are a whole floor's worth of space inside the house, and yet, separated from the rest.

It makes sense to use this area as a place where the little ones can spend some of that energy by playing and exercising in a safe and protected environment.

Basements don't even need to be finished to be fun, according to the article. Let the small kids ride bikes and scooters. Bring in some sidewalk chalk, jump ropes, mini-basketball hoops, plastic bowling pins or a kiddie pool filled with sand and sand toys for hours of inexpensive, safe fun.

However, we at Badger Basement Systems, recommend that you make sure your basement is dry before you let the kids spend time there.

Humidity brings a lot of problems such as mold and dust mites. Such organisms thrive in environments with humidity levels above 50% and their presence not always can be detected, until it is too late. Airborne mold spores and dust mite pellets are the two most common household allergens, known to cause upper respiratory allergy symptoms in sensitive people. Children are specially susceptible to them.

If your basement is leaky, have it waterproofed. If it is damp, consider installing a dehumidifier like or Energy Star Rated SaniDry, that will not only remove moisture but will filter the air, eliminating mold spores and dust mites as well, for a fraction of the cost of many common household units.

Contact us for an inspection and let us help you transform your basement in that safe, dry, healthy and fun room your kids will love and enjoy for many years to come.